Work-in-Space News
2017-01-26 15:34:26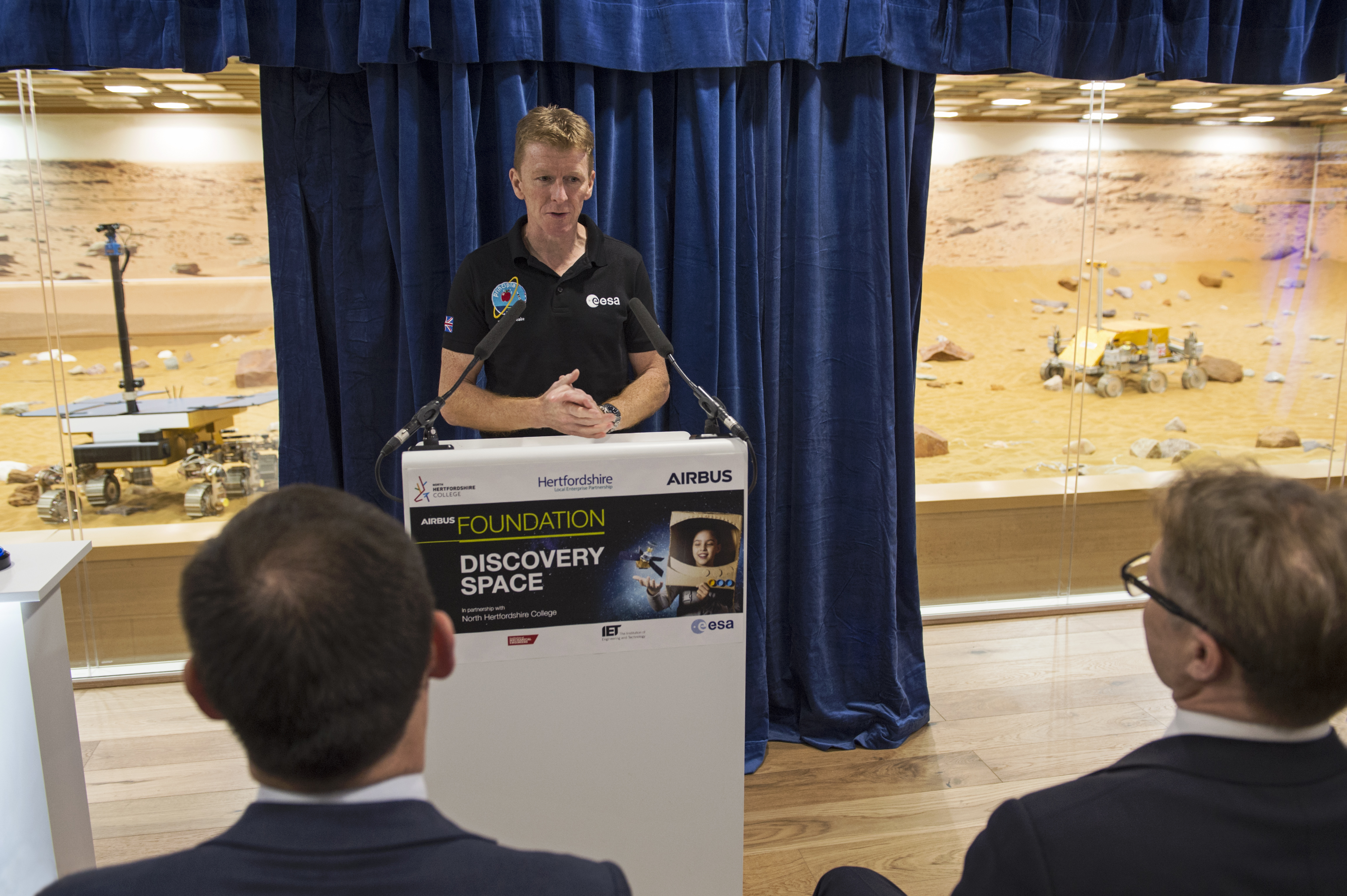 Tim Peake officially opens Airbus Foundation Discovery Space in Stevenage
British European Space Agency astronaut Tim Peake has officially opened the Airbus Foundation Discovery Space STEM (Science, Technology, Engineering, and Maths) centre in Stevenage next to the Mars Yard test area.
Backed and funded by Airbus, the Airbus Foundation and the Hertfordshire Local Enterprise Partnership the STEM Centre will be run in partnership with North Hertfordshire College. The centre features educational exhibits to promote science, technology, engineering and maths to encourage and inspire students for their future, especially for a career in engineering.
The Airbus Foundation Discovery Space consists of a multi-functional education centre with interactive exhibits, a space to deliver classes and workshops, and a viewing gallery connecting with ongoing engineering activities associated with the build and test of the European Space Agency's ExoMars Rover in the Mars Yard.
North Hertfordshire College will operate the centre and work with Airbus to create learning experiences and resources which draw on Airbus' work on the ExoMars Rover project. Open to all students across the UK, the Centre will focus initially on schools in Hertfordshire before branching out to the surrounding counties and London.
The centre allows visitors to explore and learn for themselves; complemented by an extensive education programme, designed and delivered by North Hertfordshire College centre staff. The centre will allow young people to develop their learning through an exciting and stimulating visit that is entertaining as well as educational.
Andrew Stroomer, Head of Airbus in Stevenage said: "We want the Airbus Foundation Discovery Space to inspire the next generation of engineers, technicians and scientists, as part of that we will put a focus on disadvantaged communities, bringing experience and opportunity to those who would not otherwise be engaged."
Matt Hamnett, Principal of North Hertfordshire College said: "We are thrilled be working with Airbus and the Airbus Foundation to create and operate the Discovery Space Centre. Their commitment to playing an active part in the creation of a vibrant talent pool for their industry is fantastic. We're really excited at the prospect of building education experiences and resources which leverage the unique inspirational power of the ExoMars Rover project."
Mark Bretton, Chair of Hertfordshire Local Enterprise Partnership, said: "We are delighted to be part of this ambitious project which uses the search for life on Mars as a powerful learning tool. By finding out about the tremendous advances in space exploration happening on their doorstep we hope to encourage more young people locally to pursue careers in engineering, technology and science and even possibly follow in the footsteps of Tim Peake."
Andrea Debbane, Executive Director of the Airbus Foundation said: "Youth development is at the heart of the Airbus Foundation's mission. We strive every day to stimulate and inspire young minds through STEM and are proud to add the Airbus Foundation Discovery Space to our vast portfolio of youth programmes around the world. We strongly believe that instilling a passion for science and technology at an early age will widen the potential for innovation and creativity for a sustainable and empowered future."
---
For more information contact:
Suite
TN22 5AA
United Kingdom
Tel: 442081445934